About
Our Mission
Skate Philly is dedicated to connecting communities through skateboarding. The organization seeks to transform and revitalize urban landscapes by building free, public skateparks that bring together and celebrate the City of Philadelphia's rich skateboarding culture and diverse population.  With the goal of establishing Philadelphia as the most skateable city in the U.S., the organization seeks to build on the city's already strong skateboarding reputation and deep history —cementing Philadelphia's place on skateboarding's world stage.
Our History
During the '80s and the early '90s, skateboarding became a national phenomenon that spread to the east coast from its epicenter in California. As young people in the Philadelphia region began to skate, they gravitated toward what would soon become one of the most iconic skate spots in the United States, Love Park.  While painful to admit, it seems all good things come to an end.  Despite its daily use by skateboarders from around the world, skateboarding the City's most iconic street skateboarding location was banned.
If people couldn't skate at Love, they needed a new place to skate. Led by Josh Nims, a movement was formed. Skateboarding advocacy group, then named Franklin's Paine Skatepark Fund (FPSF), was created to raise funds for a new park and to advocate for skateboarding and the value it brought to cities that chose to embrace it.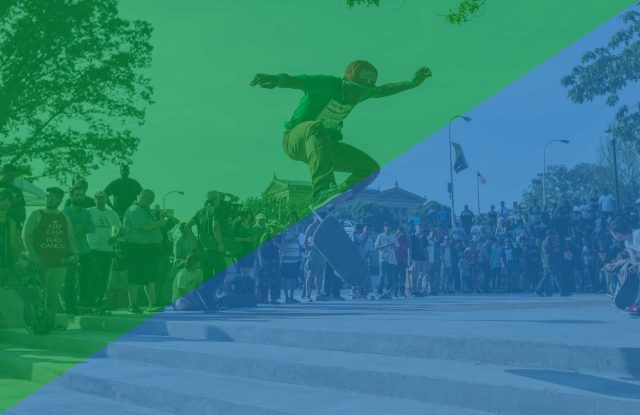 There were numerous fundraisers and initiatives to raise enough money to build a new Center City park. It took a while, but in that time, FPSF helped to get multiple 'pocket' parks off the ground. 
Fast forward to 2012, and enough community support and capital had been generated to take the initiative seriously and to break ground. After nearly 10 years and the contributions of many, Paine's Park became a reality. Though it shares a few design elements, it wasn't designed to replicate Love Park, nor could it ever replace it.
Today, Paine's Park is a true community asset, well beyond skateboarding. The space hosts events like movie nights and concerts and has been host to numerous flea markets and fairs along with no shortage of food trucks to meet the food and drink needs of the thousands of annual visitors.
But Skatephilly is much more than Paine's Park.  The mission continues to keep Philadelphia front and center on the skateboarding world stage.  Our new chapter as SkatePhilly signals a shift. We got what we worked so hard for in Paine's Park, but we now strive to bring Love Park's absence full circle by paying homage to the Love Park of yesteryear. We continue to work aggressively, with city officials, planners, donors and friends, to find a new home for the numerous tons of original Love Park granite we managed to preserve. While Love can't be replaced, we intend to give that granite a worthy home and at least partly restore the park's impact on the city and reinvigorate the skate community responsible for its prominence.
We hope you come along for the ride.